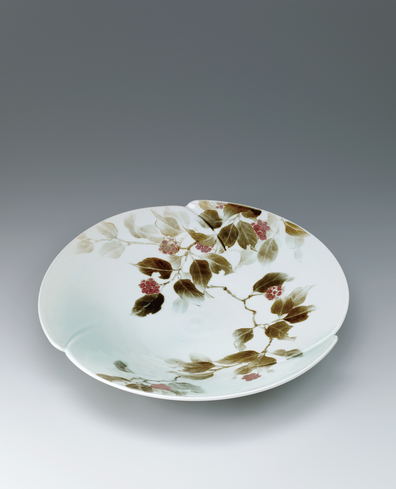 Large dish with binankazura design.
Infomation
Categories

Ceramic

Size

L50.0 W50.0 H11.5
Techniques
Blueandwhiteware
Blue and white ware is made by painting designs on white biscuit-fired pottery with a cobalt-rich pigment known as zaffer, or gosu in Japanese. It is then coated with a transparent glaze and glost-fired. In China it has been made since the Yuan Dynasty (around the 12th century).
View the information of technique
Tetsu-e
With this technique, you can paint designs with pigment containing iron oxide (rusted iron), then coat it with a glaze that turns transparent during firing, and fire it at a high temperature (glost firing). This is a basic method of producing decorative ceramics, utilizing the way the iron in the pigment changes colors when fired.
View the information of technique
Blue-tintedseihakuji
Seihakuji (blue-white porcelain), known in English as celadon, is produced using porcelain clay made from white stone. It is pottery that has been biscuit-fired and painted with a glaze containing a small amount of iron, which turns a bluish tint when fired again. This technique originated in China. There is also hakuji (white porcelain), which is painted with a glaze that turns transparent when fired, and seiji (blue porcelain), made with clay containing iron coated with a glaze that turns blue when fired.
Artist&Works
Shiyo Sakai
Ceramic
/ Full member, Japan Kogei Association
Inspired by the flowers, berries, and fruits, and the changing seasons as motifs, I decorate ceramics with overglaze painting. When creating my works I aim at making a soft impression.